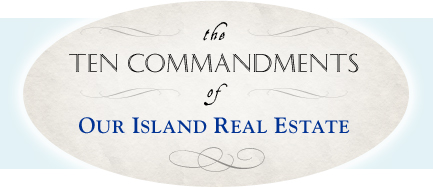 We only want to work on transactions that we can add value to.

We put our clients ahead of the firm and the firm ahead of ourselves.

Our goal is to always do more than is expected of us.

We like each other. We feel lucky to be working with each other. We help each other, and we don't let each other down.

We know whom we are recommending to our clients and we want to keep it that way.

Our sandbox skills are well-developed: we play well with others.

We do our best with clients who want to team up with a real estate company.

We're confident. We don't have to make anybody else look bad to make ourselves look good.

We like to work hard and we like hard work. Our clients don't hire us to do what's easy.

We've always had a commitment to things larger than our own pocketbooks... which enriches us and our approach.
---
---

Our Island Real Estate was proud to once again be part of the American Cancer Society's Relay For Life which was held on June 11th. Although this important fundraising event has already concluded, donations are always welcome. For more information, call 718-273-7700 or visit the official website.
---
O
ur Island Real Estate agency is meeting the growing needs of the Staten Island community it serves. For the past ten years, Staten Island has been the fastest growing borough in New York City. We are proud to say that Staten Island has a higher percentage of homeowners than any other borough in NYC. As a result, the pride of home ownership really shows. Our professionals at Our Island Real Estate understand how such trends affect the local real estate market.
Our Island Real Estate recognizes the differences between the various neighborhoods and the ethnic diversity that goes along with our growing population. By having a centrally located office, we are able to serve our clients in a truly unique manner. We are well informed about Staten Island and all it has to offer, and we possess in-depth knowledge about the individuality of each and every neighborhood. Therefore, our professionals are more suited to meet the individual needs of every client at Our Island Real Estate.
At Our Island Real Estate, our agency takes great pride in the community and our fellow Staten Islanders. That pride is the foundation upon which our company has been built. We truly believe that Staten Island is a great place to call home, and we hope you agree when we show you our real estate agency's selection of available property. Our high-level of customer service and incite to the areas equips us to be best suited to help you find a place to call home.
---
---
Scores Turn Out For Relay For Life Event
At Wagner College
---
WAGNER COLLEGE, JUNE 11 — Relay For Life is a fun-filled overnight event designed to bring together those who have been touched by cancer in our community. At the event, we celebrate survivorship and raise money to help the American Cancer Society in its mission to save lives, help those who have been touched by cancer, and empower individuals to fight against the disease. On June 8, teams of people gathered at Wagner College for the charity event.
Our Island Real Estate sold raffle tickets to raise money and presented a lucky winner with a check for $5000. In addition, the raffle sales generated over $11,000 for the American Cancer Society. We at Our Island Real Estate take great pride in the fact that we can reach out to so many people to open their hearts and wallets to make a difference in the fight against cancer. It's hard work, but it pays off in the end when we are able to hand over that check!