---
OUR ISLAND REAL ESTATE is a full-service Real Estate Brokerage Company. We have positioned ourselves by enlisting the best and most knowledgeable Realtors in the marketplace, who complement each other by specializing in different fields of Real Estate.
Included in our staff are specialists in residential and commercial real estate sales, rental experts, property management professionals, specialists in land development as well as marketing and sales of new construction.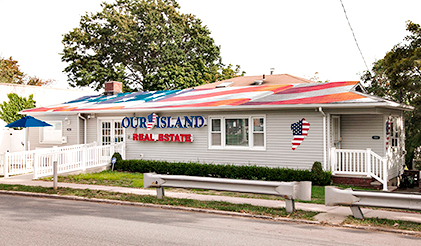 The Our Island Real Estate offices.
We are members of the Staten Island Board of Realtors as well as the Brooklyn Multiple Listing Service and have a large presence in both boroughs, which allows for a smooth transition for people migrating from Brooklyn to Staten Island.
Our Island Real Estate was founded in 2004 to better serve the needs of homeowners and prospective buyers here on Staten Island. Our Island gives our clients a no-nonsense approach. When listing a property, we try to help the homeowner understand the true value of their home, so the property can be sold in a timely manner, which benefits them both financially and emotionally. We have set up a sales team of successful, hardworking professionals who work around the clock to help people find the homes of their dreams. Our agents share a common trait...a dedication to their clients' interests. They are known for consistently going the extra mile to insure client satisfaction.
All of our listings can be found by clicking on the "Our Listings" link. We can be reached at our office at 934 Hylan Boulevard Monday through Friday from 10am–6pm and Saturday & Sunday from 10am–2pm at 718-273-7700. Chris Reno, President/Owner of Our Island Real Estate says, "The goal of Our Island is to serve the needs of our neighbors in a respectful and caring manner. We're not trying to be the largest real estate organization on Staten Island; we strive to offer more personalized service that treats each home with the dignity it deserves."